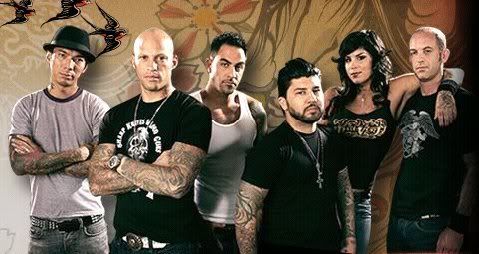 One of the shows that I LOVE is
Miami Ink
. It absolutely fasinates me. I am tat-free, but I just can't get enough of Miami Ink. The art of it amazes me.
So I'm sitting here Friday morning watching this week's episode (gotta love the DVR) and my 4 year old daughter says, "I wish daddy had one of those!" I pause the show and I have to go into a whole schpill of how we are not supposed to get tattoos and that daddy will never get a tattoo.
"But you can just wash it off," she argues.
"No, honey. You can't wash them off. Tattoos never come off."
"But K (my 6 year old) had a monkey one that washed off."
"Well, that was just a pretend tattoo, not a real one. Do you want to watch Dora?"
"No. I want to watch this (Miami Ink)," she says.
Like mother, like daugther I guess.