I've never really had a dishwashing soap preference. I've always just bought was was cheapest, usually the store brand. Then comes
the Grocery Game
, and I start buying name brand stuff, usually Electrasol and then some Cascade. So I have been using the Electrasol, either in tablet form or the gel in the bottle and it's been okay. This is dishwashing soap...how good can it be, right? And I've always been a pretty good pre-rinser anyways. I guess that is a habit that you form when you don't have the top-notch dishwashers.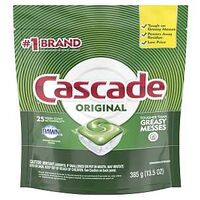 So I had gotten some of the Cascade Action packs. I used a couple bags of them. Then I ran out and had a bottle of the Electrasol gel with Jet Dry. Holy Cow!!!!!!!!!!!! It sucks! It leaves those annoying little grainy remnants on everything when the cycle is done. It doesn't get anything that is remotely stuck on off. What the heck? So now I know that dishwashing soap
does
make a difference. Who knew!?!?!
Now what am I supposed to do with the 20 boxes of Electrasol tablets I have? (And don't you think that I am even exaggerating).